It takes real skill to get 4 people turn up to a band rehearsal every week.
I was looking for a new lead guitarist for my band back in 2004. Booking band practice used to be hard work, trying to sync up the diaries of 4 student musicians and the room rental space. So when a prospective guitarist made that quote, I was taken aback by its simple and profound clarity. That quote and the "eighty percent of success in life is just showing up" one by Woody Allen has stuck with me ever since.
With that clarity and new determination, I devised a new, almost obvious system:
Booking band practice between 7 pm and 11 pm every Wednesday, every week.
Once booked, I didn't have anyone to chase up. We met on Wednesday and then we would talk about meeting the following Wednesday. No one would book Wednesday off for any other purpose as it was sacred for band practice. This consistency in time and space gave us a stable framework, focusing me and my band mates. Week by week, we got better and within a few months a lot better.
I had tapped into the powerful nature of consistency and the compounding returns it brings.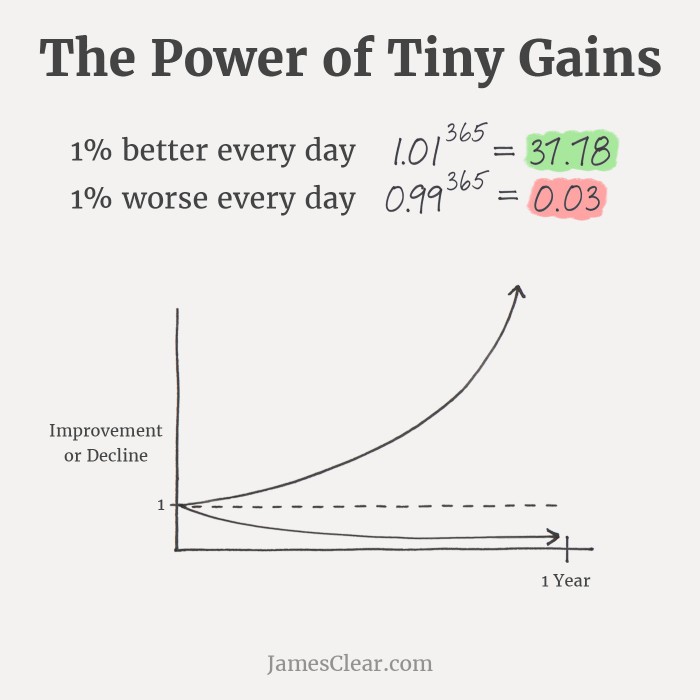 James Clear's book Atomic Habits explains why this focus hack I've used for the last 20 years works so well. And now that I know about it more consciously, it is going to become a part of my planning forever.
It goes something like this: (from James Clear's blog)
"I will [BEHAVIOR] at [TIME] in [LOCATION].
I will meditate for one minute at 7 a.m. in my kitchen.
I will study Spanish for twenty minutes at 6 p.m. in my bedroom.
I will exercise for one hour at 5 p.m. in my local gym.
I will make my partner a cup of tea at 8 a.m. in the kitchen.
Give your habits a time and a space to live in the world. The goal is to make the time and location so obvious that, with enough repetition, you get an urge to do the right thing at the right time, even if you can't say why."
Here's a few actual examples in my diary of things that I currently commit to:
Every day – Read 10 mins after waking up, go for a morning walk straight after (indoors during lock down)
Wednesdays 10:30 am – Singing lesson
Wednesdays 8 pm – Pilates class
Fridays 7:30 pm – Tango class
Saturdays 11 am – Ballet for Tango class
Sundays 7:00 pm – Live streaming singing and guitar playing
Signing up to classes is the easy bit as the timings are designed by someone else. The hard bit is something like committing to live streaming every Sunday or going for a walk first thing in the morning. These habits took me about a month to get into. But once I was into doing these, everything was automated and even if I didn't feel like it, I was far too committed to the consistency to back off now.
I still have a few other things I need to automate. Same time, same place, same duration, every week or daily. In the beginning the energy need to focus is high but with time this gets easier. Trust yourself that compounding will take over later. Slow improvements at first will lead to huge long term changes.
So try it with any new habit you are trying to build.
Small initial consistency (it really has to be consistent, otherwise this fails) really pays off massively in the long term.